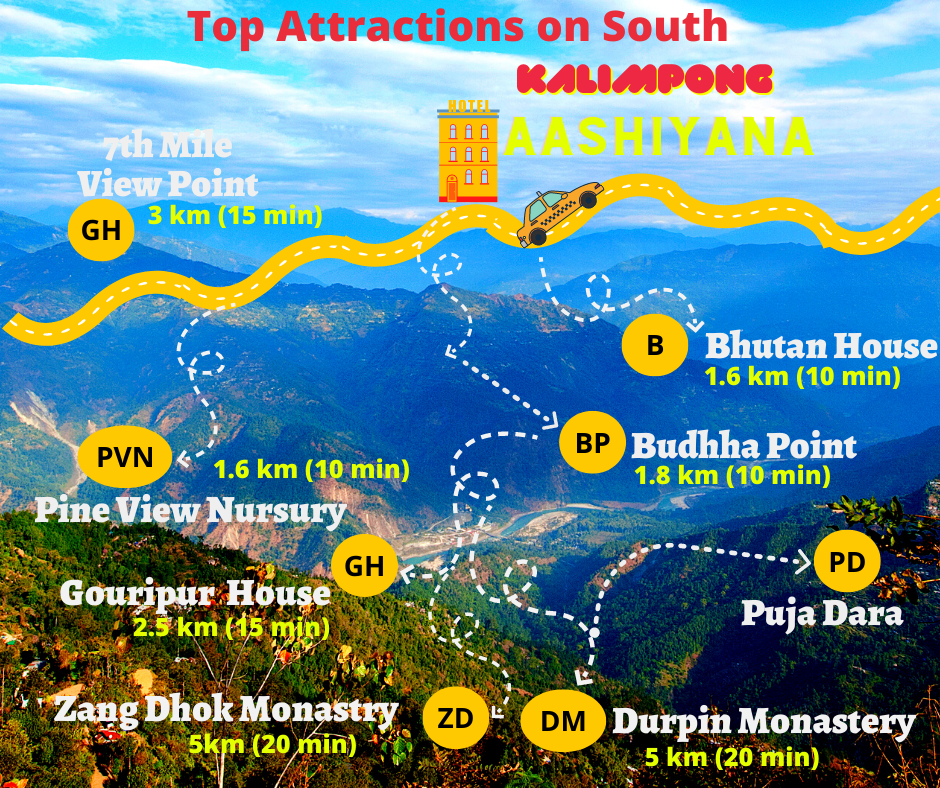 Kalimpong Sightseeing from Hotel Aashiyana
1) Durpin Monastery to Hotel Aashiyana
Zang Dhok Palri Phodang is a Tibetan Buddhist monastery in Kalimpong. The monastery  situated atop Durpin Hill, one of the two hills of the town.  Dedicated in 1976 by the visiting Dalai Lama. The distance from hotel Aashiyana — 2km.
In this paragraph, I am going to discuss John Anderson Graham. Who opened St. Andrew's Colonial Homes on land leased from the Government of Bengal below Deolo hill in a rented cottage with 6 children. He would soon lease 100 acres and then over the years a total of 400 acres as the Homes continued to grow. The distance from hotel Kalimpong — 3.7 km.
3) Nature Interpretation Centre to Hotel Aashiyana
At a distance of 1km from K hotel Aashiyan.Nature Interpretation Center is a museum located on Rinkin Pong Road in Kalimpong. One of the popular museums in Kalimpong and among the most important places to visit in Kalimpong. The museum is famous for activities such as global warming and animal extinction. The Center conducts regular activities for collecting information on the flora and fauna.
4) Crockety House:
Firstly, Crockety house one of the colonial bungalows of the British Raj during their rule of India. Moreover, It is open to the public for viewing. It has an excellent structural design and is royal-looking. Built by the wool traders of Britain in the 18th century. Secondly, the house is quaint and is found in the upper section of the town of Kalimpong. Crockety is one of the favorites in attracting tourists. Just located at the back of this house is the house of famous poet Rabindranath Tagore
 Forests and natural flowers all-around build Chibo's tiny low heaven tucked on the slopes of the mountain range. The most importantly cactus garden ahead of an area village home looks simply gorgeous to seem at. Chibo has wonderful leafage covered by tall pine trees (locally called Dhupi) and energetic flowers. The chirping birds and therefore the fresh air of Chhibo make it a perfect weekend destination to rest and savor the morning sun. Chibo, be able to simply take a looking trip from the hotel Aashiyana, just 4 km away.
6) Ramdhura:
Firstly, It is positioned at an altitude of 5000 ft and at a distance of around 15 kilometers from  Hotel Aashiyan. The village is located at a modest height, and forests of pine and other hilly trees offer absolute tranquillity.
Ramdhura has a wonderful panoramic view. A charming sunrise with its changing colors over Mt. Kanchenjunga is the main magnetism. But the Teesta river, flowing beneath a majestic green valley, the pine forests, the Cinchona Plantation, and flocks of colorful birds and butterflies also attract tourists.
7) Pedong
20 km from Kalimpong Hotel Aashiyana, The small picturesque hamlet located on a ridge and surrounded by pine forests. In conclusion, it commands some magnificent views of the nearby hills. The village used to be a major shipment hub on the ancient silk route that connected Tibet with India through the Jelep La Pass. Secondly, and most importantly the village is spread North to South on a ridge and is the starting point of some interesting small hikes.
8) Rishikhola
Generally, a place defined as heaven for bird lovers. Rishikhola provides an ideal atmosphere to residents and migratory birds in the Himalayan region. With magnificent natural environs of lush green huge trees, numerous Himalayan and sub-Himalayan bird species like the Crimson Sunbird.The best time for birding in Rishikhola. Moreover,the distance from Kalimpong Hotel Aashiyana is around 44 km.
9) Sillert Gaon:
Sillery Gaon also spelled as Sillery Gaon or Sillerygaon is a charming small town in Kalimpong District of West Bengal. Moreover, located at an altitude of 6000ft. In other words, decorated with dense forest of pine trees Sillery Gaon with it amazing view of Mt Kanchenjunga and scenic beauty is often referred to as the 'New Darjeeling'. Sillery Gaon is located at a distance of 23km from Kalimpong Hotel. Engulfed in the serene ambiance; Sillarygaon with its rustic style and amazing views has become a just right getaway destination for nature lovers.
10) Icchey Gaon
Hovering at an altitude of 5800ft is a peaceful rural community called Icchey Gaon. Tucked amidst the alpine jungle of pine and conifer tree Icchey Gaon is an out-of-the-ordinary destination of North Bengal. Icchey Gaonalso spelled as Icche gaon . In other words, Echey Gaon is situated at a distance of 17km from Kalimpong hotel. Moreover, This old-fashioned place has caught the attention of travelers with its beautiful view of Mt Kanchenjunga and rural style of living. Overlooking the gorgeous township of Darjeeling and Sikkim, during the nighttime, the whole valleys light up like fireflies. The night view from Icchey Gaon has enthusiastic the mind of many travelers.
11) Lava
Situated at a height of 2350 meters. Above all, Lava is approximately 35 km from Kalimpong hotel Aashiyana and is fast becoming a major tourist destination. In addition, The flourishing forests of Lava arc perfect for nature treks, bird watching, and plant and wildlife investigation. Similarly, The Sherpa View Point here provides an beautiful view of the snow-crested mountains of Bhutan and Tibet. The monastery at Lava is a place of much interest to scholars and academics.
12)Lolegaon
A small peaceful village in the Kalimpong District. However, Lolegaon is nature's heaven on its own with beautiful scenery. Above all, Comprising flourishing green forest and serene valleys. The peaks of Kanchenjunga rise ceremoniously in the morning mist. For instance, Lolegaon – a one-hour journey from Kalimpong hotel. located in an extreme end of a Himalayan Ridge. Generally located at a distance of 24 km from Lava lying at an altitude of 1,675 meters. Lolegaon can be reached from Siliguri with a 4 hour drive covering 124 km via Kalimpong and Lava. Kalimpong, the nearest town is 55 km from Lolegaon
13) Rishop
The place can be approached by a 4 km walk uphill from Lava. Through the deep silent forest of Pines, Rhododendrons, and Orchids. Rated as the best and ultimate site in the Kalimpong area. Situated at a height of 8250 ft, about 10 kms away from Lava and 28 kms away from Kalimpong hotel Aashiyana.