Kalimpong Hotels Aashiyana the Best Hotels in Kalimpong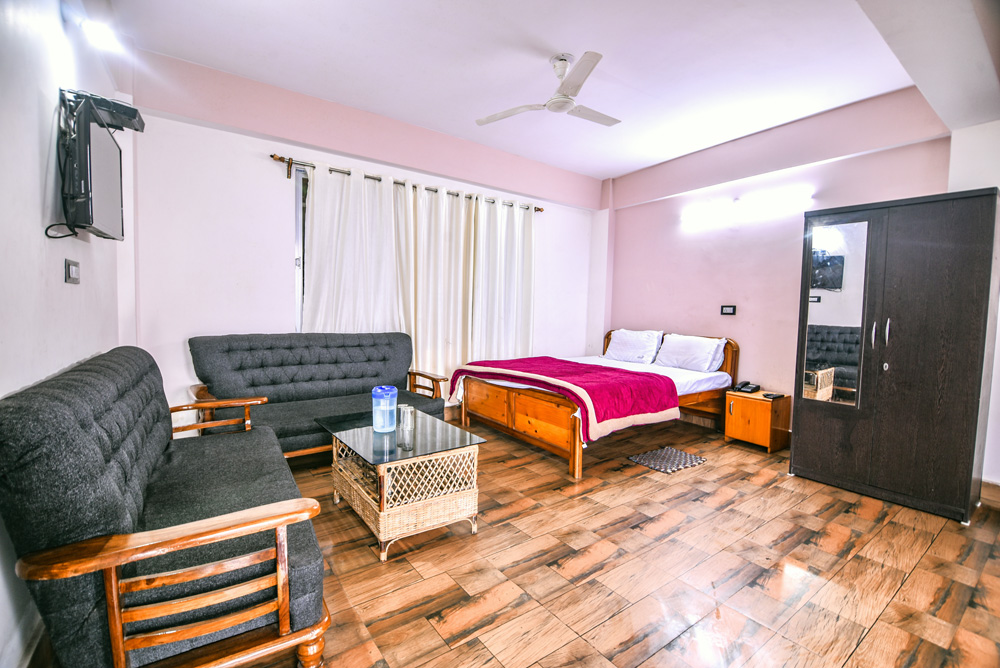 Kalimpong Hotels Aashiyana
The Best Kalimpong Hotels for Families
Best Kalimpong Hotels for Budget Travelers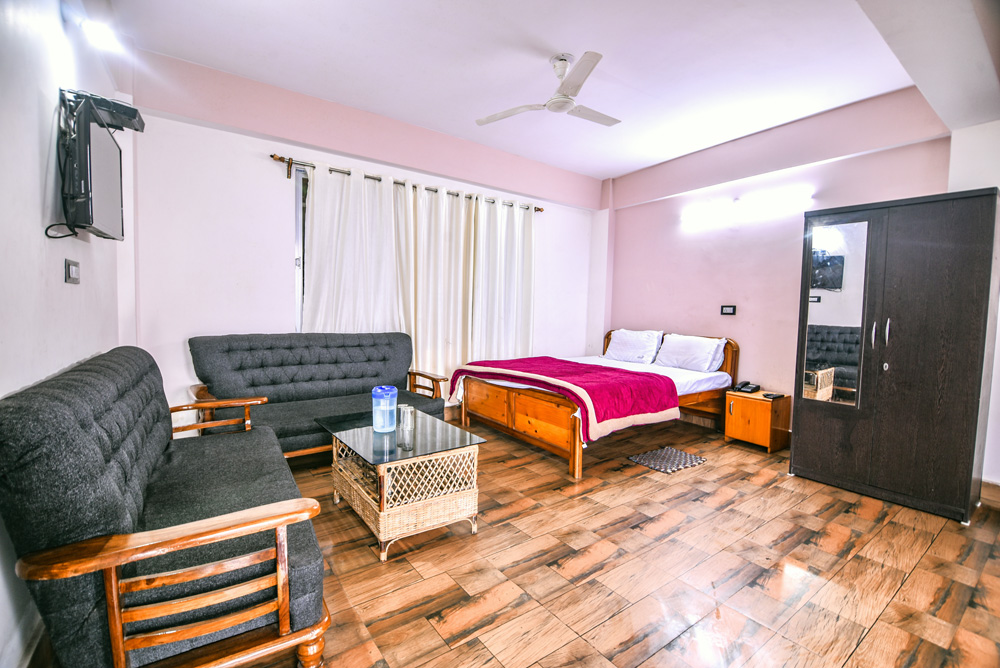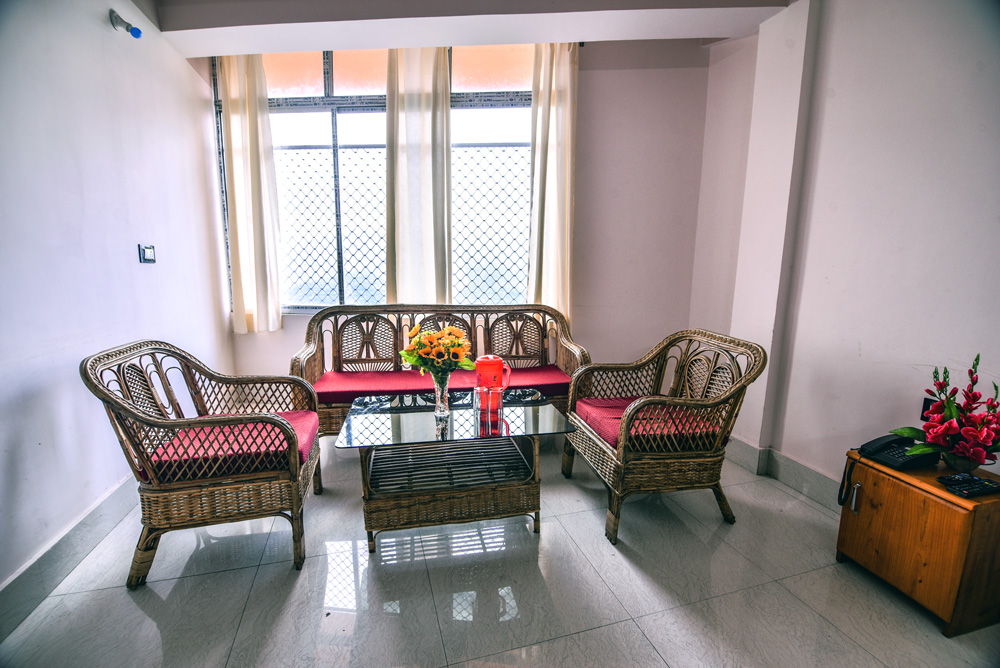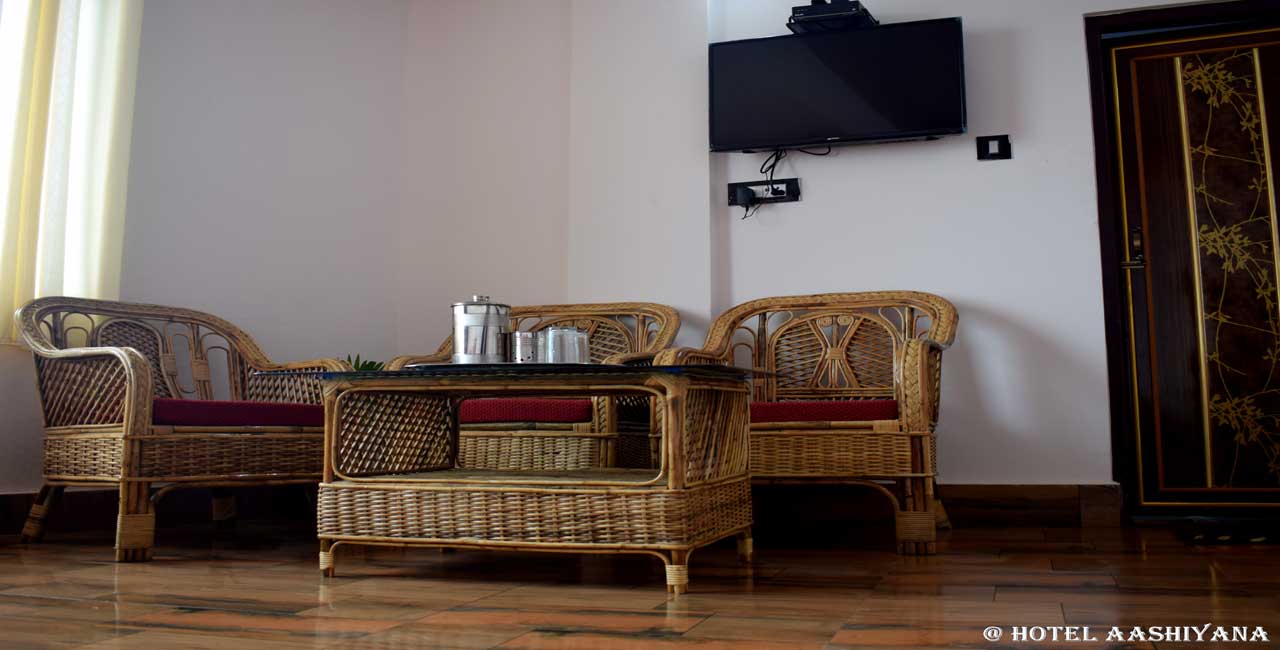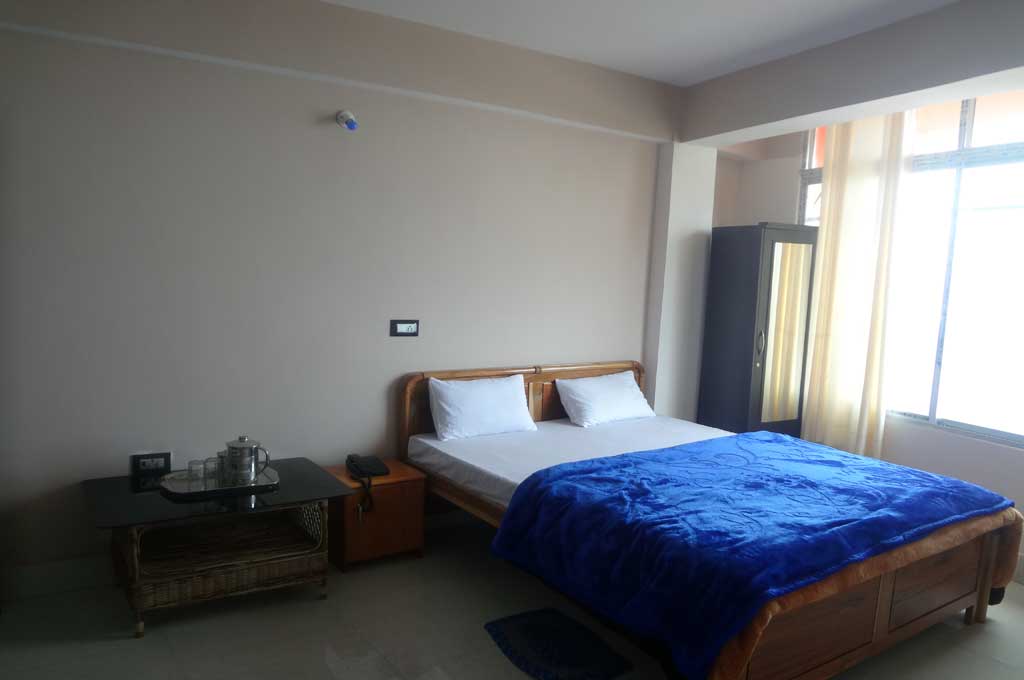 The Best Kalimpong Hotels Near Popular Attractions
If you are searching for Kalimpong hotels Aashiyana is a charming option. Firstly, kalimpong is famous for scenic beauty, Dello hill and Kanchenjunga view. Secondly, Aashiyana is located in the heart of Kalimpong and is the city's most well-known hotel. In fact, Kalimpong hotels Aashiyan offers various amenities, such as 24 hours geyser, Wi-Fi and restaurant. Nowadays, aashiyana has become one of the top choices among Kalimpong hotels. Hotel aashiyana is also one of the top rated hotels on Tripadvisor and proud winner of Travelers choice award. Our location and service make Aashiyana one of the best hotels in Kalimpong.
Some of the key highlights of Hotel Aashiyana
Room Rent: Firstly, hotel Aashiyan is one of the cheapest hotels in Kalimpong among Kalimpong hotels. We have four types of rooms, Luxury room, Family room, deluxe room and non view room.
Luxury room: Secondly, luxury room is Kanchenjunga view having king size bed, sofa, and TV. All the luxury room has attached bathroom and intercom. This room is perfect for solo and couple travelers. We charge Rs 2000 including taxes.
Family room: Thirdly, We have four family rooms this room is very large and perfect for family and friends. Family room has at least two beds and we can accommodate six guests at a time. All the rooms have attached bathroom and intercom. We charge Rs 3000 including GST.
Deluxe room: Lastly, the deluxe rooms all have a Kanchenjunga view with a balcony. Most importantly, this is the most demanding room at hotels in Kalimpong . All the rooms are very specious and view from balcony is excellent. We charge Rs 2500 including GST.
Convenient location: Aashiyan one of the best conveniently located hotels in kalimpong among kalimpong hotels. Hotel is just few minutes walking distance from kalimpong market and Kalimpong bus stand.
Basic amenities:  Kalimpong is always cold during the year, and Geyser is the most important amenities. We provide 24 hours geyser facility and uninterrupted Wi-Fi to our guests.
Free Wi-Fi:  Wi-Fi the most essential facilities that every tourist always expects. At hotel Aashiyana internet is excellent, and upload and download speed is much better than any other Kalimpong Hotels.
Meal Plan: Hotel Aaashiyana always offers complimentary breakfast. More importantly, hotel Aashiyana has many different types of meal plans like, APAI, MAP, EP, CP, and Food & Lodging.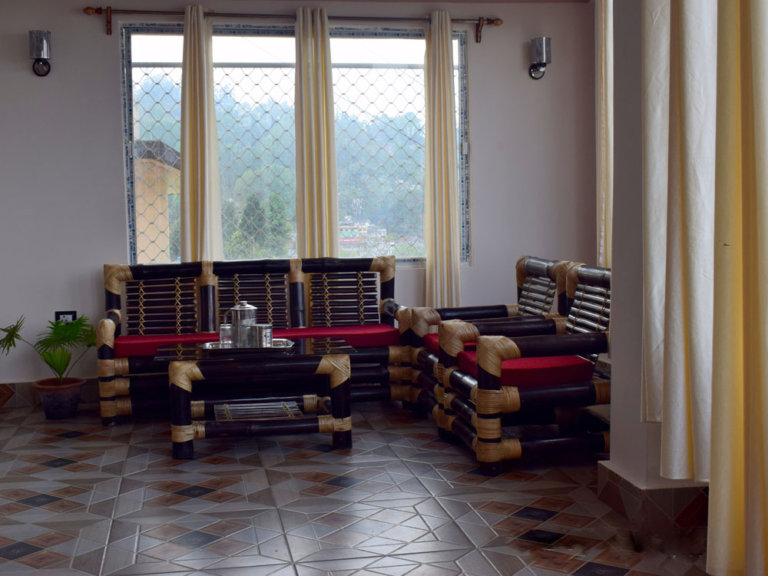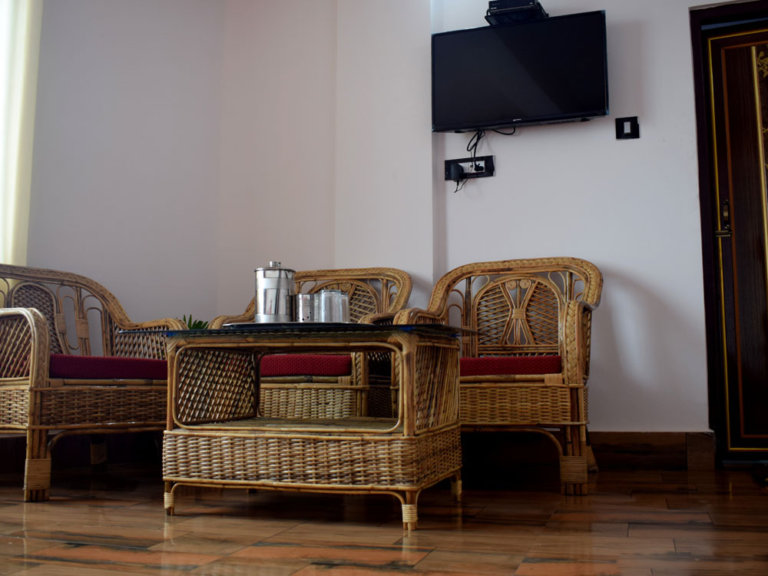 Things to do in around Kalimpong Hotels
1. Exploring Kalimpong: Nowadays tourists like offbeat destinations, Kalimpong and surrundigs is perfect for offbeat tourism. Firstly, Kalimpong has excellent landscapes, rich heritage, and warm hospitality. The top things to do in around Kalimpong while staying at Kalimpong .
2. Panoramic Views: Kalimpong Hotel Aashiyana provides excellent view of Kanchejunga. Visit popular viewpoints like Delo Hill and Durpin Dara.
3. Visit Ancient Monasteries: The Zang Dhok Palri Phodang Monastery, Tharpa Choling Monastery, and Thongsa Gompa are best place to visit.
4. Visit Flower Markets: Kalimpong famous for orchid flower market is one of the best places to visit from Kalimpong Aashiyan.
5. Enjoy River Rafting: Nowadays river rafting is most popular outdoor activity. Tourist can enjoy river rafting while staying at Kalimpong .
6. Kalimpong Arts and Crafts: Kalimpong one of the best places for Art and Crafts in entire region. Most importantly, kalimpong Art and Craft gallery is just few minutes from Kalimpong .
7. Visit the Delo Park: Delo park one of the main attractions of kalimpong. Moreovere Delo Park is just 6km from Kalimpong .
8. Experience a Homestay: If anyone wants to enjoy local food and local culture honesty is good option. However, Kalimpong is the Land of homestay.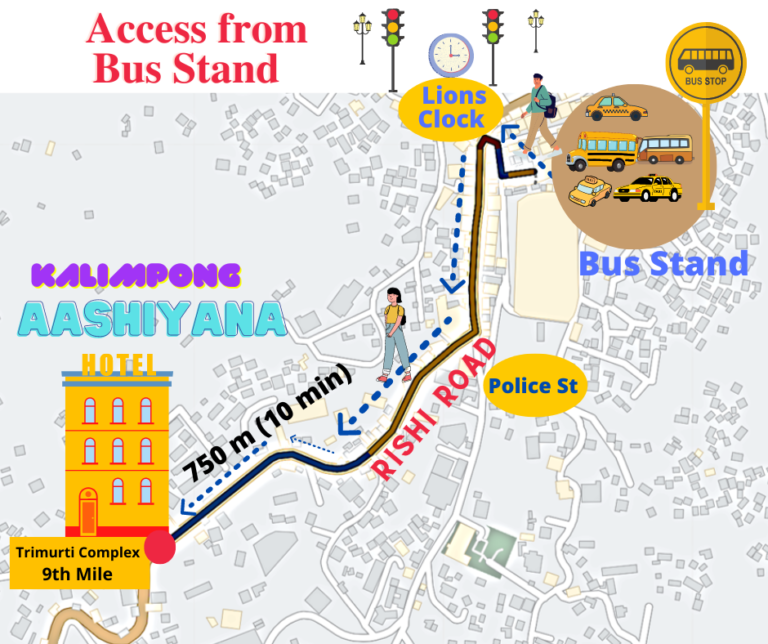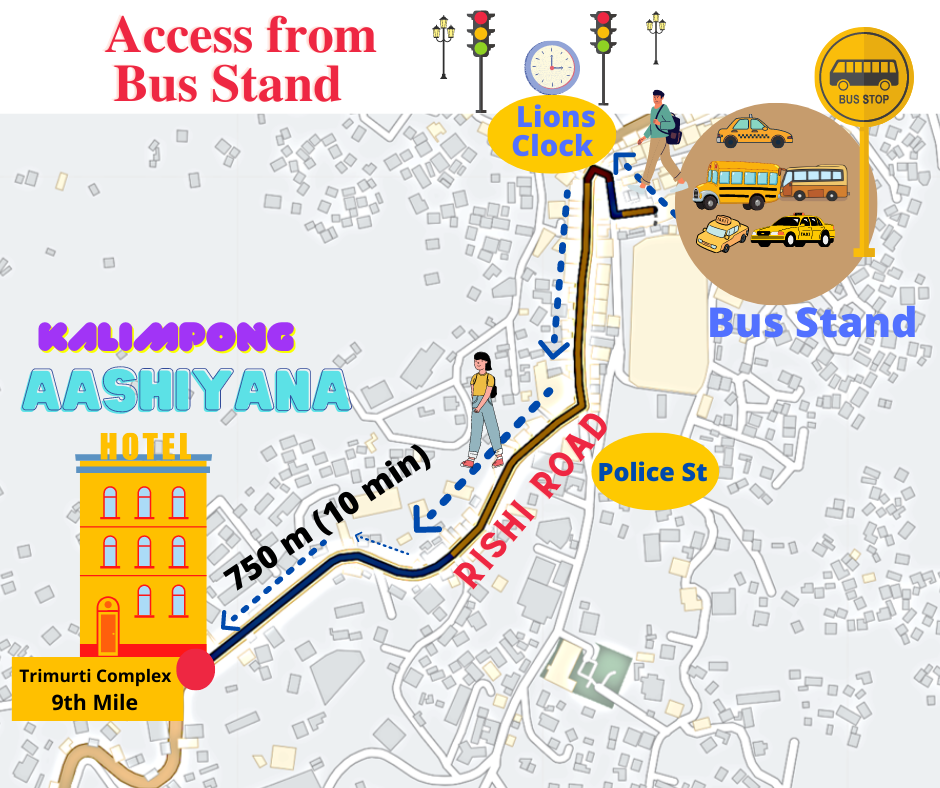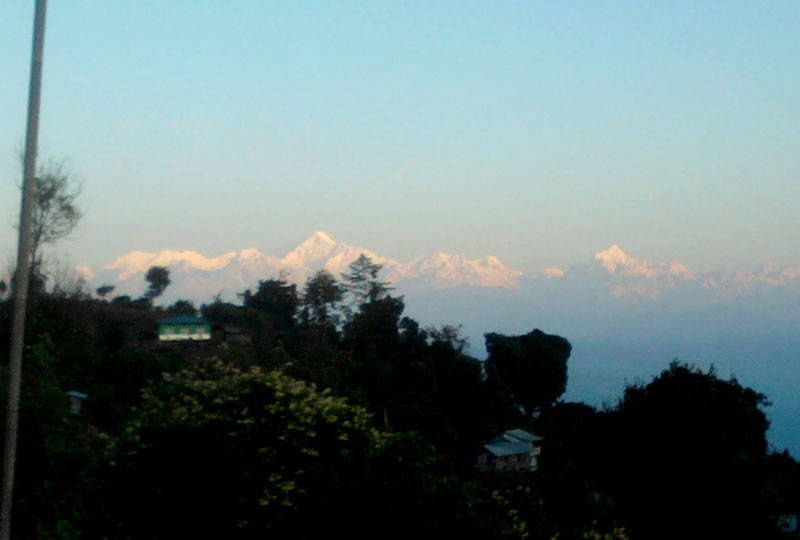 How to reach kalimpong and Kalimpong hotels
If you start your journey from NJP, you have to cover 70 km to reach Kalimpong via Teesta Bazar,taking about 3hours. Firstly, the route begins with Sevok Road, followed by NH10, crossing Teesta Bridge. A right turn into Rishi Road will take you uphill through Kalimpong town. If you start from Siliguri, the drive to Kalimpong covers 66 km, and from Bagdogra Airport, it's about 75 Km. The journey follows same route as NJP, starting from Sevoke Road. Alternatively, if you start from Darjeeling, you have to cover 50 km; the drive to Kalimpong is a delightful experience. More importantly, if you start from Gangtok or Pelling you have to cover 75 Km and 87 km respectively.
The distance and travel time between Kalimpong and other popular places.
Darjeeling: 55kms (2.5 hours by car)
Gangtok: 75kms (3 hours by car)
Pelling : 87 Km ( 4 hours by car)
New Jalpaiguri (NJP): 73kms (3 hours by car)
Siliguri: 65kms (2.5 hrs by car)
Bagdogra: 75kms (3hours 45mins by car)
Lava: 34kms  (1.5 hours by car)
Loleygaon: 52kms (2.5 hours)
Rishyap: 29kms (2 hours)
Pedong: 20kms (1 hour)
Tourist attractions near Kalimpong Hotels:
At an altitude of 4,100 feet kalimpong town is located. In fact, Kalimpong has a milder and more pleasant climate compared to Darjeeling and Gangtok. Kalimpong offers excellent views of the Himalaya and Kanchejunga, including over 600 types of orchids. Importantly, kalimpong is famous for floriculture and white orchid.
Durpin Monastery (Zang Dog Palri Monastery): Local Buddhist People built the holy place in 1972, and one of the famous monasteries in entire region.  This monastery is just few minutes walking distance from kalimpong hotels.
Deolo Hill: At an altitude of 5,200 feet Deolo hills is located, deola is the height point of Kalimpong. This beautiful destination offers excellent view of surround hills. The hilltop is easy to go from Kalimpong town, just 15 minutes by car. Additionally, Deolo hills offers paragliding opportunity fro tourist.   
Dr. Graham's Home: Dr. Graham's Home, located in Kalimpong near Delo hill, is a famous educational institution. Established in 1900, the school provides up to class 12th education. Moreover, the campus is spread across 10 acres of land. It is a popular tourist destination in Kalimpong.
Mangal Dham: A beautiful temple in the name of lord Krishna, just few minutes walking distance from Kalimpng town.
Hanuman Temple: Hanuman Temple in Kalimpong is a religious site that attracts many local visitors and tourists. Additionally, this temple features a huge 30ft statue of Lord Humuman, located near Dello hills.
Lepcha Museum: The museum offers interesting history of Lepcha community, including their tradition, and customs. The hotels in Kalimpong provide all types of support to the travelles to vist Lepcha Museum.
Army Golf Course: Army golf course one of the tourists spots near Kalimpong hotels. This golf course has 9 holes, only Army personal can play hare. This golf course located near Kalimpong circuit house.
Morgan House Kalimpong 
Morgan House one of the iconic tourist spots in kalimpong, and every tourist visit this iconic building. Lastly, Morgan House located near kalimpong hotels and just few mints walking distance from Hotel Aashiyana.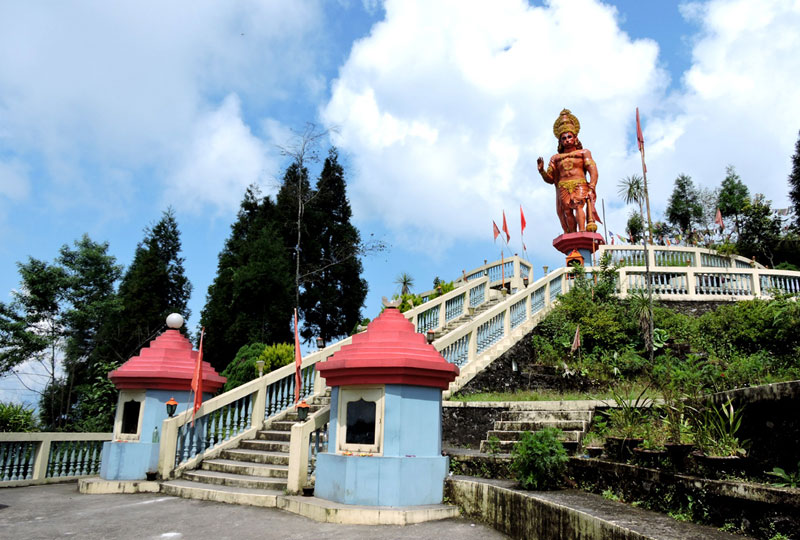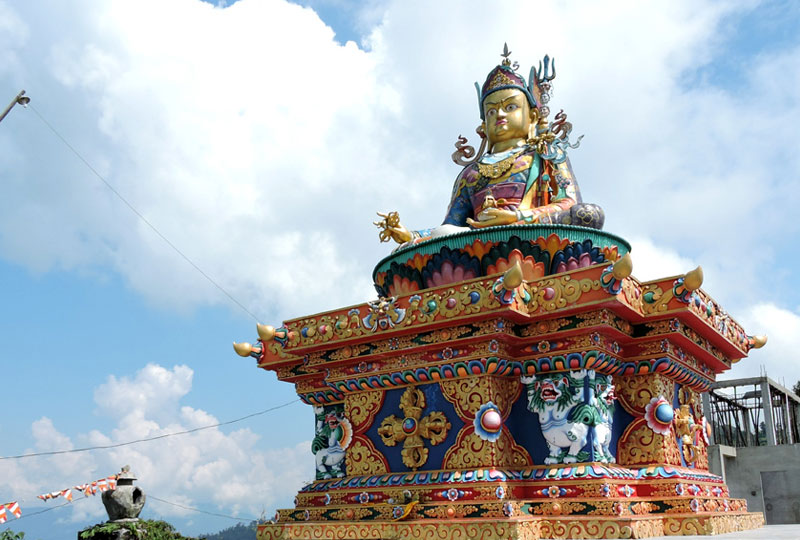 Frequently Asked Questions (FAQ) about hotels in Kalimpong 
What types of accommodations do Kalimpong hotels offer?
Kalimpong hotels offer different types of accommodations, luxury rooms, deluxe rooms, and family rooms.
 How can I book a Budget hotels Kalimpong?
You can book hotel over phone or making reservation through website or using online travel agency.
Do Kalimpong hotels provide rooms with views of Mt. Kanchenjunga?
Yes, you can see Mt. Kanchenjunga from room and hotel Aashiyan famous fro Kanchenjunga view.
Are complimentary breakfasts offered in Kalimpong mountain view hotels?
Many  hotels offer complimentary breakfast. But at  Aashiyan breakfast is always free.
Do Kalimpong hotels cater to families with children?
Yes, several Kalimpong hotels are family-friendly and Hotel Aashiyana one of the best family-friendly hotel.
Is Wi-Fi available in Kalimpong hotels?
Yes, most Kalimpong hotel offer Wi-Fi.
What popular tourist attractions are near Kalimpong accommodation?
Popular tourist attractions near Kalimpong –
 1)Deolo Hill 2) Durpin Dara, 3) Zang Dhok Palri Phodang Monastery 4) Cactus Nursery
Are there budget-friendly hotels in Kalimpong?
Yes,  Aashiyana one of the best budget friendly hotel.
How can I find the best deals and discounts on Kalimpong hotels?
Please visit our website and follow our Facebook page.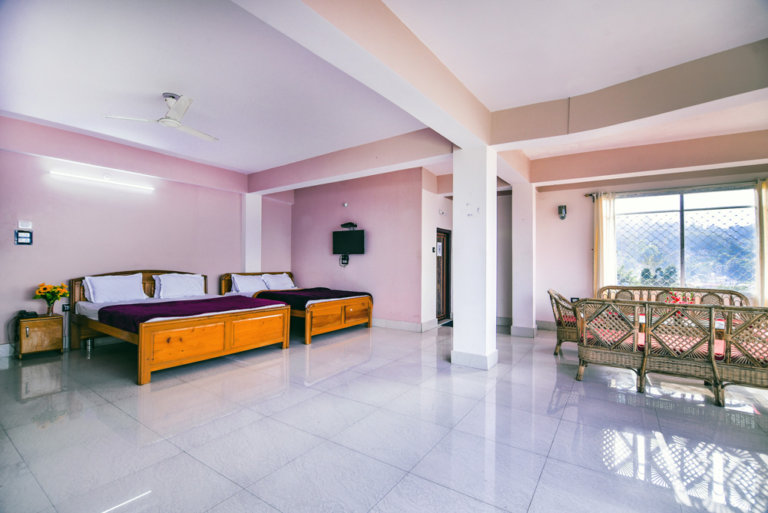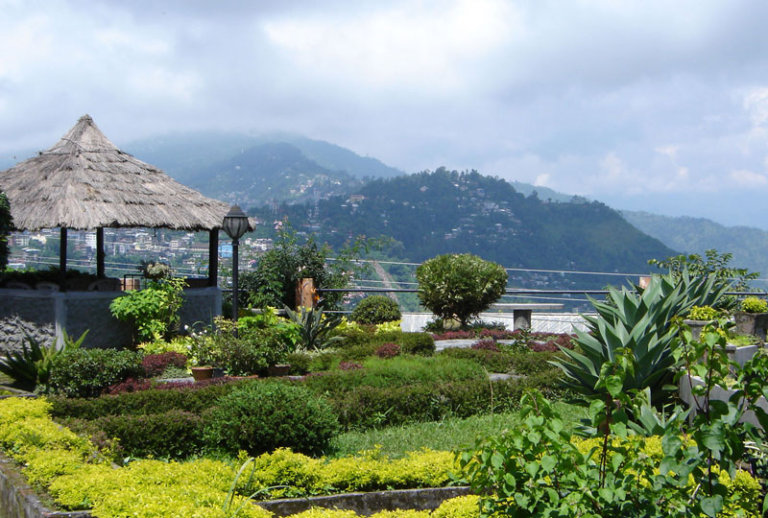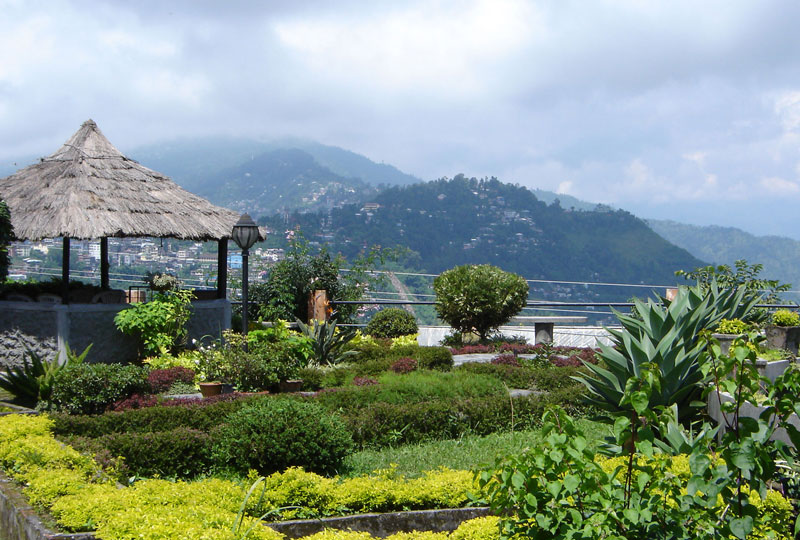 The Importance of Kalimpong
History
Kalimpong, is a beautiful hill station just 50km from Darjeeling. Kalimpong is famous for milder weather, natural beauty, and Kanchejunga view. In 17 the century Tibetan lama Tsongkhapa setup Kalimpong as a small village. However, went through rapid growth, and became major trade centers between India and Tibet of Old Silk Route. The fall of Old silk rout makes kalimpong a less important city, but Kalimpong has a historical importance. The town remains an important center of trade, attracting traders from all over India. Additionally, Kalimpong has maintained its natural beauty as a popular tourist destination.
Culture
Kalimpong is city of cosmopolitan cultures, influences from Tibetian Buddhism, Nepali Hinduism, and British colonialism.  The town has a collection of several Monasteries, such as Tsongkhapa Monastery, and Karmapa Monastery. Additionally, Kalimpong has several Hindu temples, such as Kali Mandir and Radha krishana Mandir, and Hunuman temple.
Traditions
Kalimpong has a vibrant tradition of festival and celebration such as, Losar festival, Dussehra Festival and Kali puja festival. Losar is Buddhist customs to celebrate the New Year. On the other hand, Dussehra is Hindu festival to celebrate triumph of good over evil. Lastly, the kali puja Festival is another important Hindu celebration in the name of deepavali.