Kalimpong Hotels Near Bus Stand
If you are traveling kalimpong by bus then kalimpong hotels near bus stand is grate option. In fact, in travelling convenience is key factor when the region is hill especially. Think arriving a new tourist spot and you are tired from journey and your hotel is just near bus stand. This is where Kalimpong hotels near bus stand comes into play and hotel Aashiyana offers you stress free travel experience.
Benefits of Choosing a Hotel near Bus Stand
Time and Energy Savings: The most important advantage of choosing hotel near bus stand is the time and energy saving. After a long journey, nobody wants to search hotels through Unknown Street. Indeed, a conveniently located hotel near bus stands save energy and time.
Accessibility:   Hotels near bus stand are usually situated in prime locations and making it easier to different transportation. Consequently, tourist can catch local bus, taxi very easily.
Cost-Effective: Traveling is always very expensive especially car rent but travelling by bus very cost effective. Sometimes, travelling expenses may reduced by 50% if any one use bus as transport.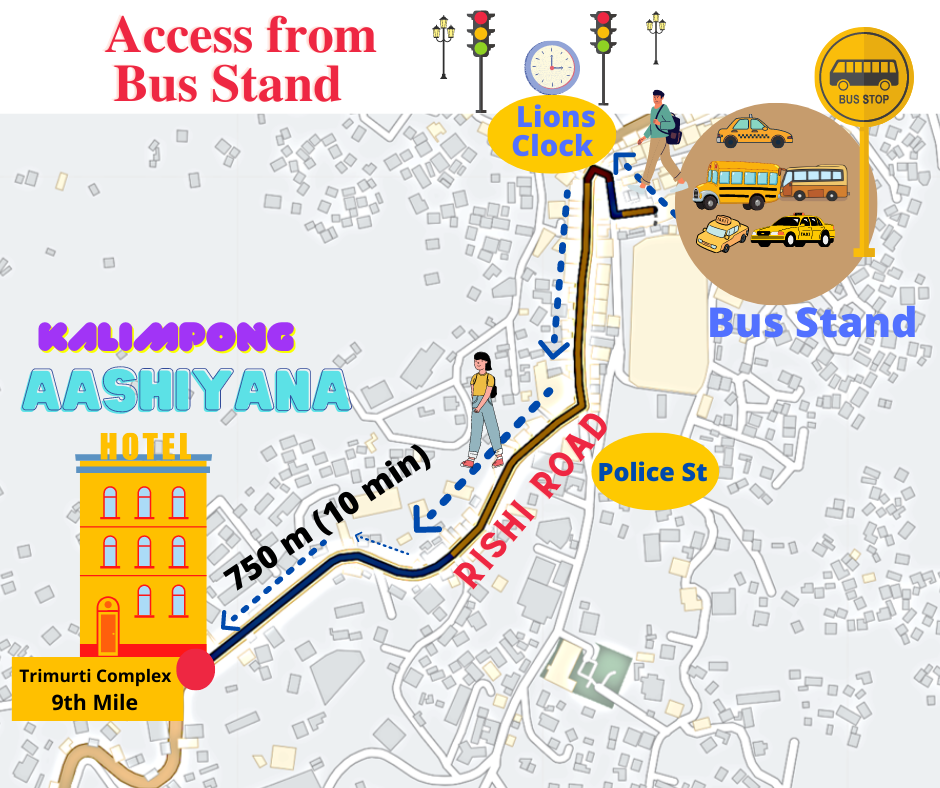 Hotel Aashiyana Kalimpong hotels near bus stand
Hotel Aashiyan is a charming option for the budget travelers. The hotel is located just 10 minutes walking distance from Kalimpong bus stand. Moreover, Aashiyana is one of the popular hotels in Kalimpong for its service and facilities. All the rooms having Kanchenjunga view and reception is very specious that your kids can play. Most importantly, Aashiyana has different types of meal plane, like room only, room with breakfast, and food & lodging. Lastly, we have opened a new branch at Lava near monastery. If you need any rooms at Lava hotels Aashiyana, our manger will help you. we provide all types of Lava, Rishop packages from our hotel. Thirdly, and most importantly, we have hotels at Lava, Darjeeling, Pelling, and Gangtok.
Above all, if you are looking for a good budget hotel at Kalimpong, Gangtok, Pelling, Darjeeling, Balurghat and Lava send us mail or call us. Moreover, you will find many hotels in Kalimpong but hotels near Kalimpong bus stand are very few. However, all tourists want to stay near bus stand Kalimpong. Therefore, we observed the shortage of Kalimpong hotel near bus stand. In this season period, hotels rooms are very expensive. Above all, we care for our guests with at most priority that guests should get cheap rooms at Kalimpong hotels AASHIYANA
Call Us for Online Book / Reservation
We always give confidence our guests to contact us directly over the phone or filling the contact us form. Similarly, we have pick up and drop facilities from Airport and NJP tourists may request for pick up and drop. Kalimpong hotels near  stand also provide sightseeing facilities from hotels. Above all, we provide packages at reasonable prices. All our guests can book packages from our hotel directly. 
List of some Kalimpong Hotels Near Bus Stand
 Hotel Aashiyana 
Hotel Classic Kalimpong
JP Lodge
 Hotel Kalash
Address: Trimoti Shopping Complex, 9th Mile , Tri Murti Shopping Complex, Kalimpong, West Bengal 734301
Phone: 094345 12991
Mail:kalimpong.aashiyana@gmail.com